Day 4 - Reeth to Aysgarth 14 miles – History Day
I'm now writing from home as I've just got back after a great 4 days. Dale has set off back and we dropped Matt off at Tan Hill to pick up his car. Janine and Kieran came to pick us up, loaded with cheese from the creamery at Hawes and I showed them the famous Tan Hill and the amazing drive over Buttertubs pass. It was funny seeing the places we had just walked.
Anyway, back to last night. We ate at the Kings Arms which was very good. Had Steak and Ale pie which was very good and Sticky Toffee Pudding. The STP was disappointing though, just a microwaved sponge, not a proper date sponge and toffee sauce. My one and only STP on the walk and it was a let down. Ah well. The beer was good but Dale and Matt moved onto the wine which I refrained from after the night before. The B & B was nice but it was like stopping at your grandmas. It was spotless and everything was tidy but it was a little old fashioned, lots chintzy stuff etc and we were told in no uncertain terms we had to be back for 11.30pm or the door would be locked and we would be locked out. When Dale asked how we might get in then, he was told he'd have to use a window if one was open or sleep outside. I looked for a tongue firmly in cheek but couldn't see it. It was also funny when the landlady was telling us about the "goings on" at the Kings Arms. Local gossip. Who needs Heat magazine. All I'll say is the pub landlady and the builder. Say no more, nudge nudge.
The breakfast was Ok today, but the sausage was the cheap crappy kind, but fried bread, yum, a long lost pleasure so probably a 7. We managed to get off before 10.00am for the first time in 4 days so a record for us. Met up with Matt who was staying elsewhere, and bought provisions. With it being a Sunday, there wasn't a lot left so we bought what was available. We ambled up to Grinton and started the climb out of Swaledale. The weather was kind to us again, the views being clear with a little cloud. The temperature was ideal for walking. On our way out we turned for a last look at Swaledale. Reeth was nestling in the valley and we could see Calver which we climbed the day before and Fremlington Edge. Behind was Great Shunner Fell and in the distance we could see the Hambleton Hills which reminded us of the Coast to Coast and the trek across the Vale of Mowbury and we could see Teeside on the horizon. Quite amazing really.
We climbed on and starting to cross the heather moor with more grouse butts dotted around but thankfully no shooters. Just as we were leaving a section of road to cross the moor to Wensleydale, we could see suddenly ahead a long line of cars. Now the road was very quiet as no car had passed us, so to see this massive long line in the distance was very strange. At first we thought it was army manoeuvres as I know there is an army firing range further down the road near Leyburn. As the cars came closer, we could see that they were all Landrovers of very type, age, colour. As they came past some had "Landrover Rally 2009" on the front so who knows where they were heading. They were still coming past as we turned and set off again. It was a pleasant amble across the high moorland and we were soon dropping down into Wensleydale for a lunch stop at Castle Bolton. A lovely, striking castle, in a great spot. A perfect place to have a bite.
Anyway, we had lunch at Bolton Castle, where a couple of hens were pecking around our feet picking up the crumbs. Dale didn't like them, so kept poking them with his walking pole. They were nice though. After lunch we set off again across fields, many with cows in and as we were making good time, we had a beer stop at the Wheatsheaf in Carperby where James Herriot spent his honeymoon in 1941. Onwards towards Aysgarth where we walked past the lower and middle falls which looked really good but not as good as they can be when they are full. We got back to the place where we started and had a cup of tea while waiting for Janine and Kieran, who were running late (no surprise there then) and trying to get the cheese before the creamery shut at 4.30. They made it and eventually turned up at 5pm with an armful of cheese. We were home for about 7pm and Dale had to dash off for the long drive home. Thankfully he made it in one piece.
Photos

Reeth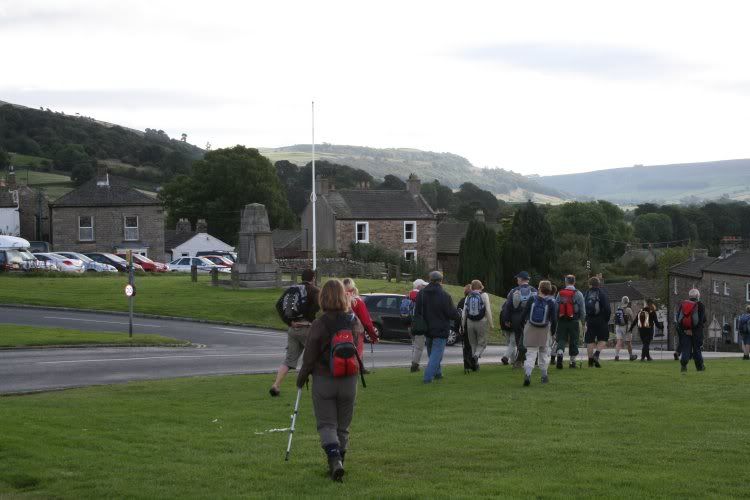 A group of walkers setting off from Reeth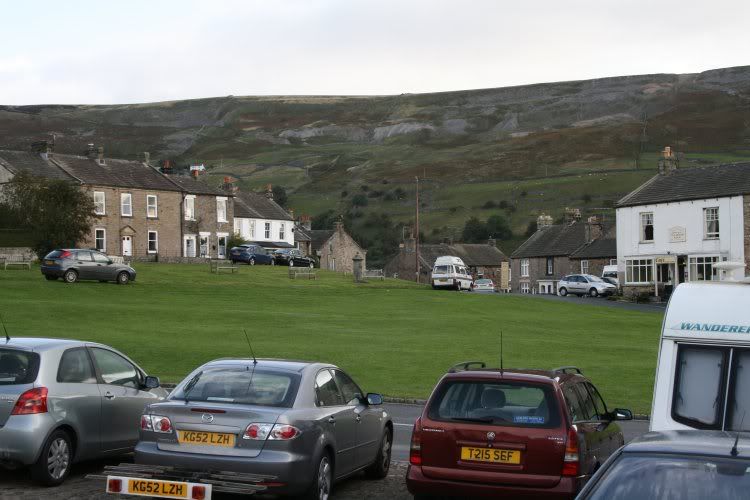 Reeth village green. Shame about the cars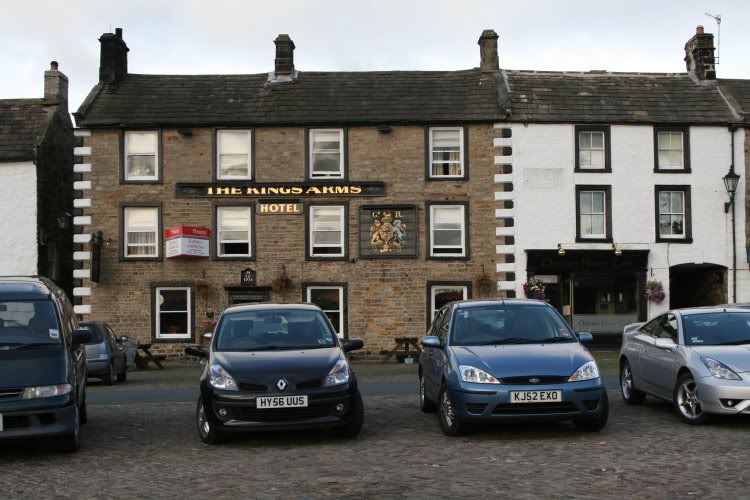 Kings Arms, Reeth. Good Beer, decent pie, poor sticky toffee pudding.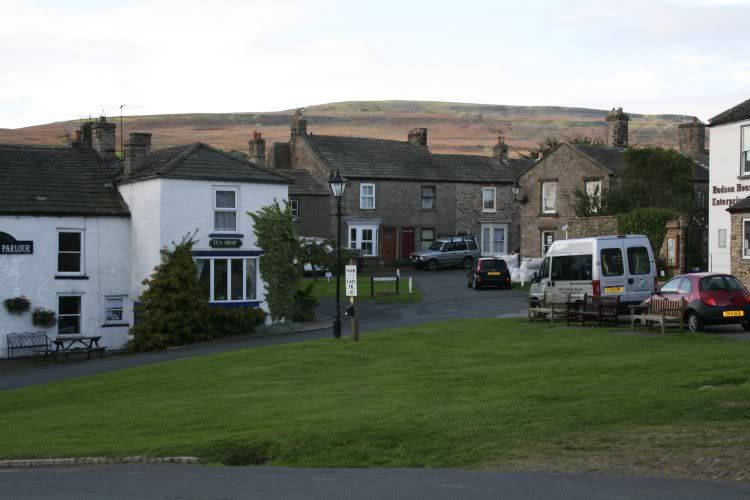 Reeth. Our B & B is just out of site in the small square.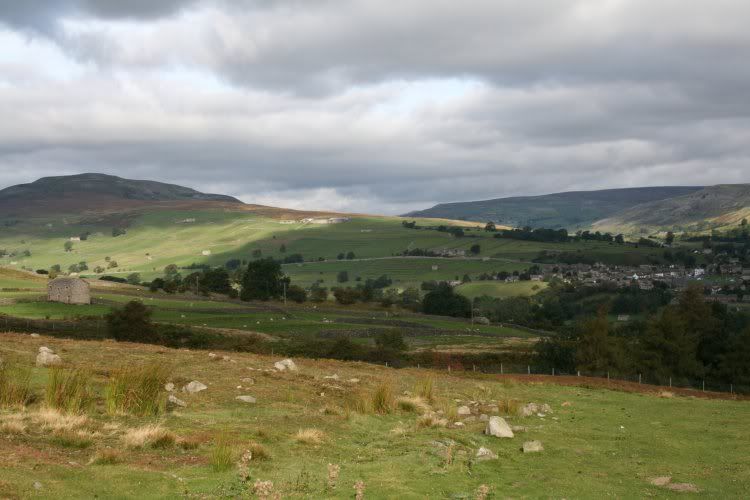 Reeth and Calver from the climb out of Grinton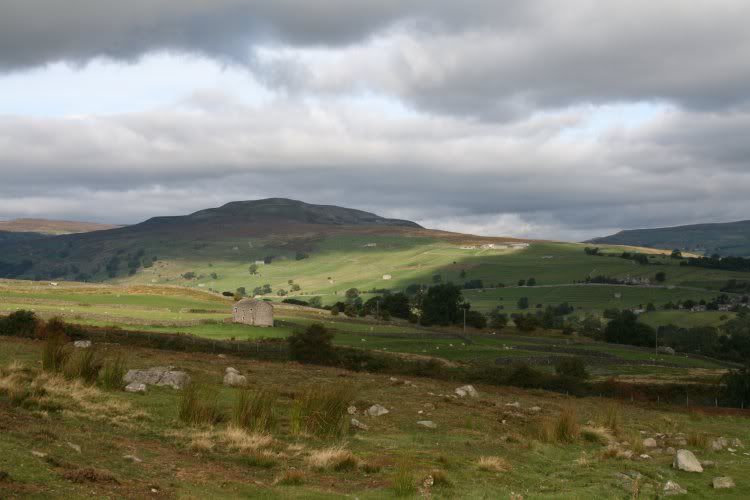 Calver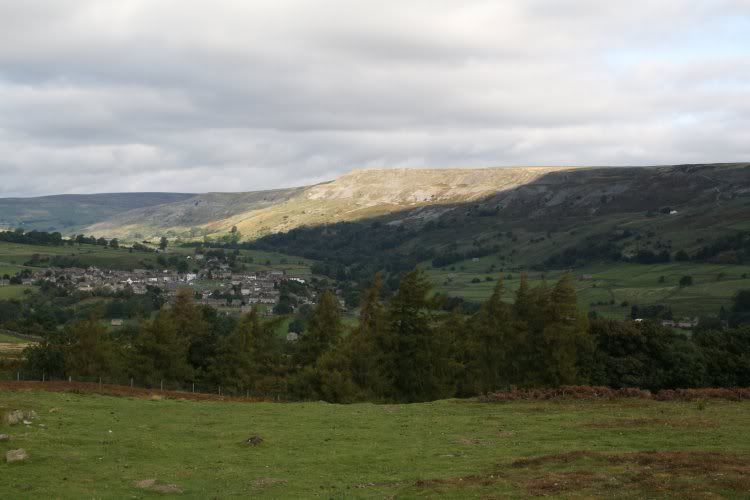 Reeth and Fremington Edge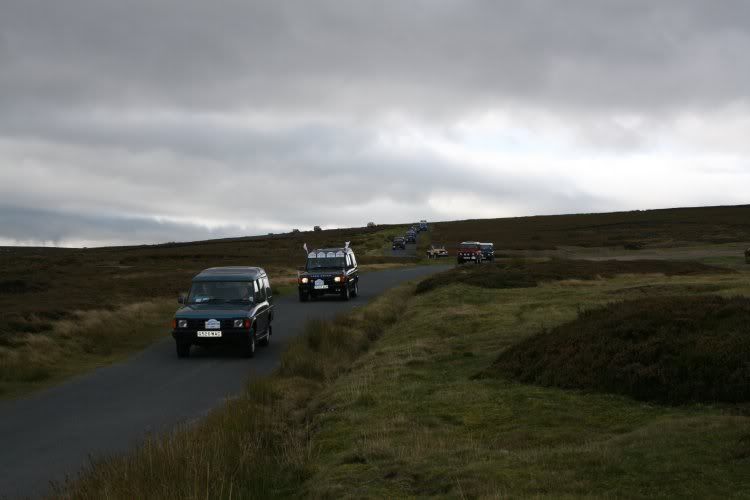 The Land Rover Rally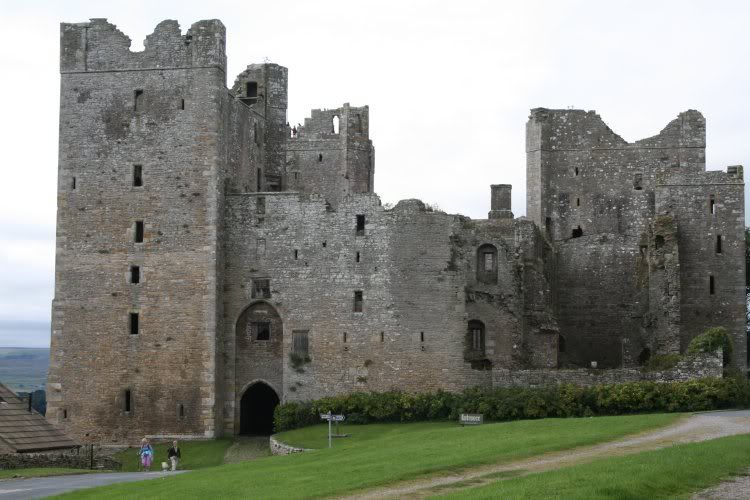 Castle Bolton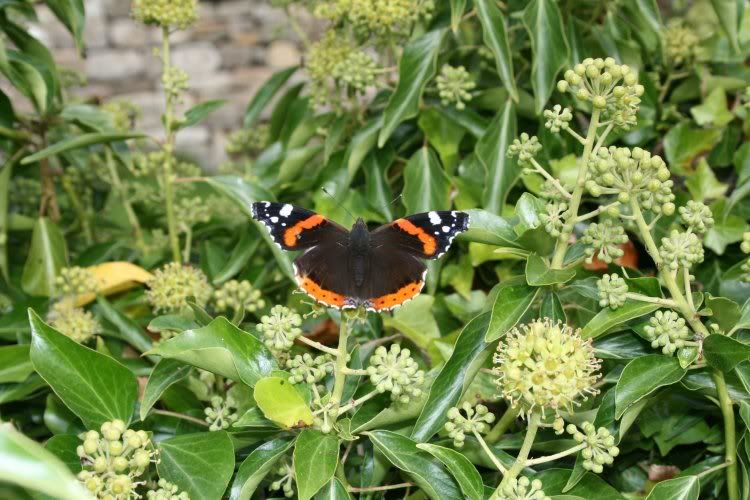 A Red Admiral butterfly near Castle Bolton



Castle Bolton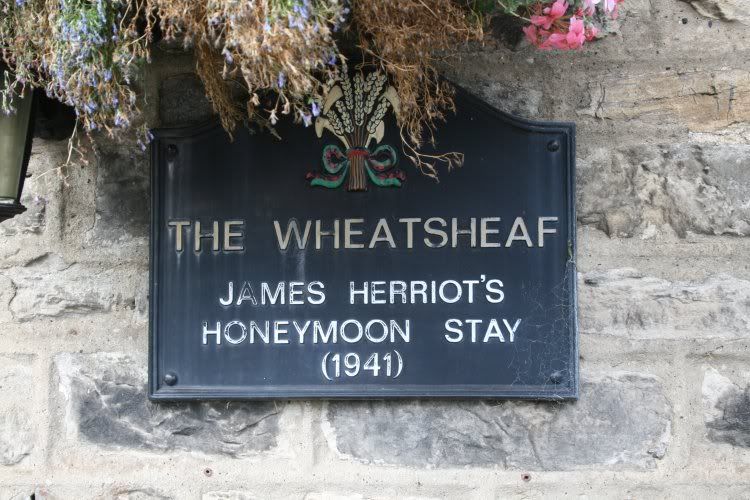 James Herriot woz 'ere sign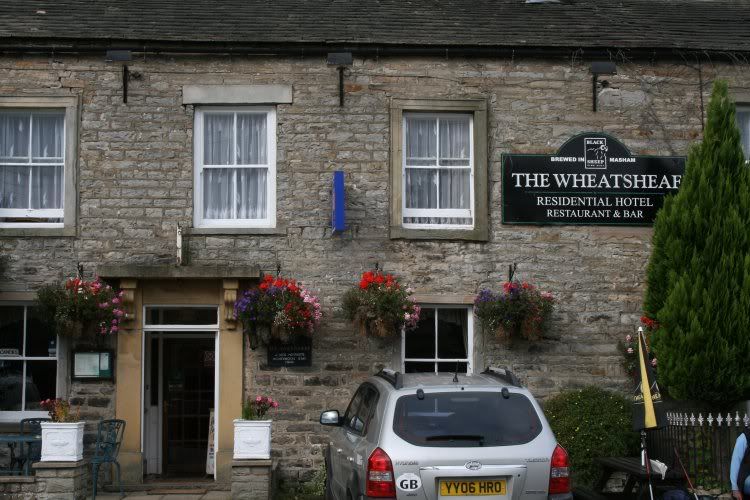 The Wheatsheaf at Carperby, James Herriot's honeymoon destination. Beats the Maldives eh!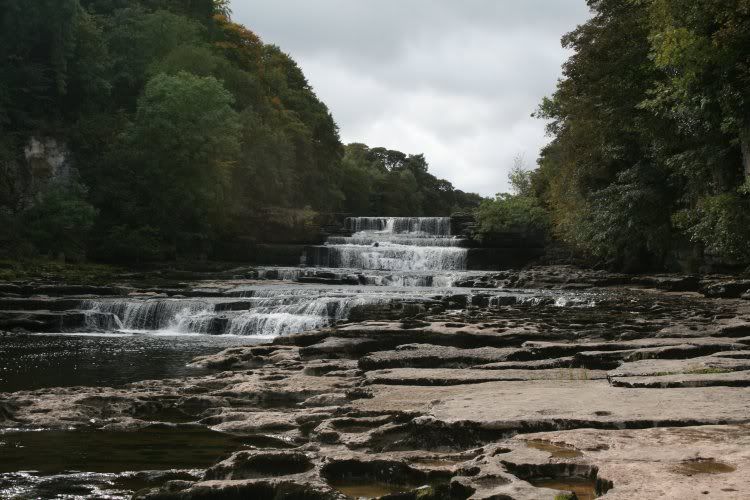 Lower Falls at Aysgarth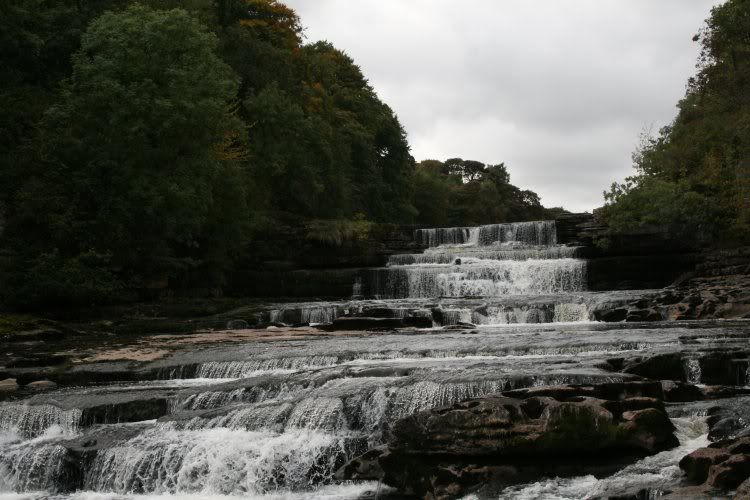 Lower Falls at Aysgarth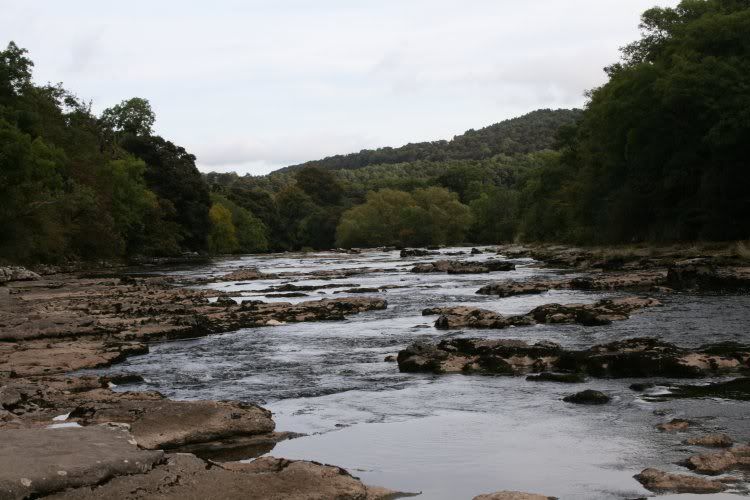 River Ure looking down from The Lower Falls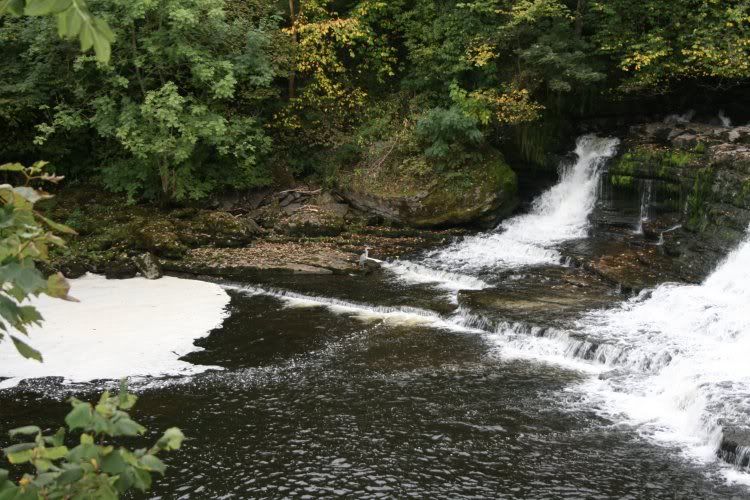 Middle Falls at Aysgarth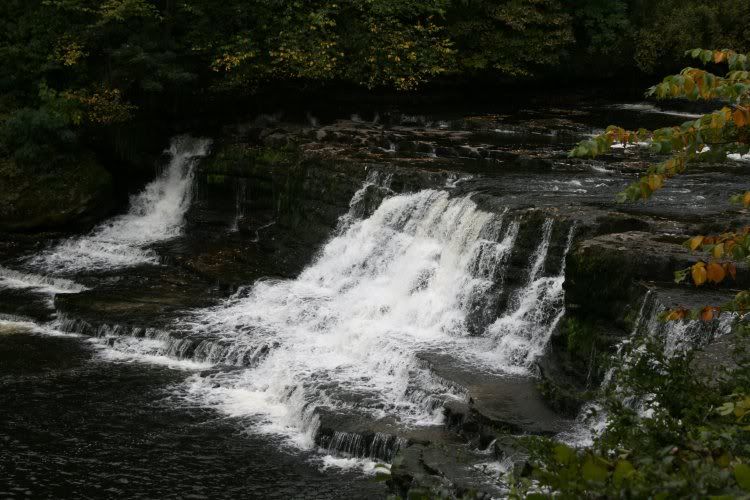 Middle Falls at Aysgarth