Day 3 - Tan Hill to Reeth 14 miles ( I think, there or there abouts). This should be history day but as we will not be walking from Keld to Reeth, I'll rename it "Grouse Shooting Day"
A brilliant day. The weather was fantastic, just warm enough, sunny, blue sky and clear views. What a change from our usual rain swept adventures.
Back to last night first, Tan Hill was great. The landlady was as mad as her reputation (her favourite song was one written about one of her younger regulars the main gist of which is that "he has an NVQ for being a twat" Nice), she also said the local beer was "ewe's piss" but it was a good night. The room was compact and bijou and needs a lick of paint but it sufficed. The food was ok if nothing to write home about and we had a few too many beers. In fact we had a couple bottles of wine as well so we were a bit merry. Matt turned up at about 9.45 as it took him longer to get there than he planned. It was great to see him again. Also got a text from Karen and Mike who are in Scotland which was lovely, so Matt "forced" me to have a whiskey as a night cap to raise a glass to Mike and Karen. Dale had gone to bed by this time, the lightweight.
Anyway, today. Breakfast was good if not as good as Ebor House (so an 8). I had my hopes of black pudding raised when I was asked whether I wanted some (yes please), only to be told they didn't have any (darnitt).
So we set off at about ten past ten. We just can't seem to get off before ten. We said farewell to the mad landlady, the pub sheep, the pub dog, the pub chickens and ducks and set off up the road. We made a bad start. Probably due to the hangover and chatting to Matt and Dale but we followed the signpost (see we're not that daft) but followed the stone road as it bent to the right past a building (which we explored), but we should have gone on the path as the road bent round to the other side of the building, Doh!, so we picked the wrong path. In fact we picked no path at all and ended up in the middle of a boggy moor land, nearly falling down an old mine shaft. We stopped and consulted the map and it was clear we were where we shouldn't have been.
So we headed off in the direction we thought the path was. We struggled across heather, bogs, ditches and found the right path (which had a cairn on it so a bit of a giveaway really) but caught site of a person standing on what could have been a path just to confuse us (more than we already were). We tramped across more boggy moor land to see that there was in fact, a line of people, with flags, obviously beaters for a grouse shoot or shoot of some kind. We turned round and went back (over more boggy moor land and uphill!!!) to the path we had just been on! and at last started to follow it. The beaters moved forward catching us up and one nice one helped with directions and helpful advice on how to avoid being shot. Earlier as we tramped around the moor, Dale stood on a grouse flew off in a flurry of feathers and grousey noise, which gave him a start (not as much as the grouse though). The grouse flew in the opposite direction to the beaters and guns so Dale probably saved it from a premature end. We followed the path hearing the guns and as we came out of a gill we came across the shoot. One of the country gentleman obviously didn't want us around, helpfully saying we should be on a road at the top of a hill and pointed to somewhere in the far distance.
When I told him we were on a footpath he said it was a sheep track!!!! Now unless sheep are building cairns he was obviously wrong or trying politely to tell us to bugger off. Eventually he said that the shoot was going down the gill, so I pointed in the general direction we were going, helpfully pointing out to him the cairns (which marked the way). Anyway, we pushed on and the path wound its way up and round the hillside, joining a good track past some old mine workings. On the track it was great to see Bruce coming up to meet us. Somehow our vague arrangements had worked. After group hugs, we set off again but because of our moorland ramblings we were late for the planned lunch stop at the Red Lion in Langthwaite. Luckily Bruce's local knowledge helped and we went down the road to CB's (a pub) and had a lunch there. Afterwards, we set off down Arkle Beck, passed Langthwiate Hall to Langthwaite, then over Calver Hill where the views are stunning. We came down to Healaugh and followed the route which has painful memories for Kieran when we did the Coast to Coast (see C2C diary for that episode). We followed the Swale to Reeth and a welcome bath. Booked at the Kings Arms for dinner and looking forward to a good night with old friends.
Photos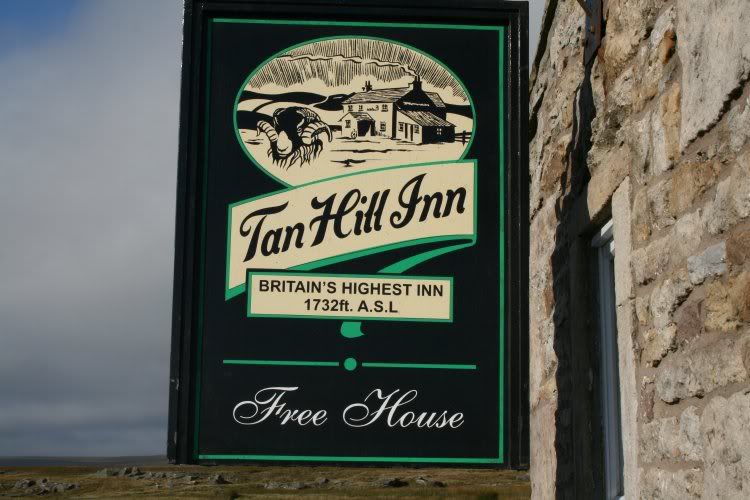 Tan Hill. A very entertaining place to stay.



The pub dog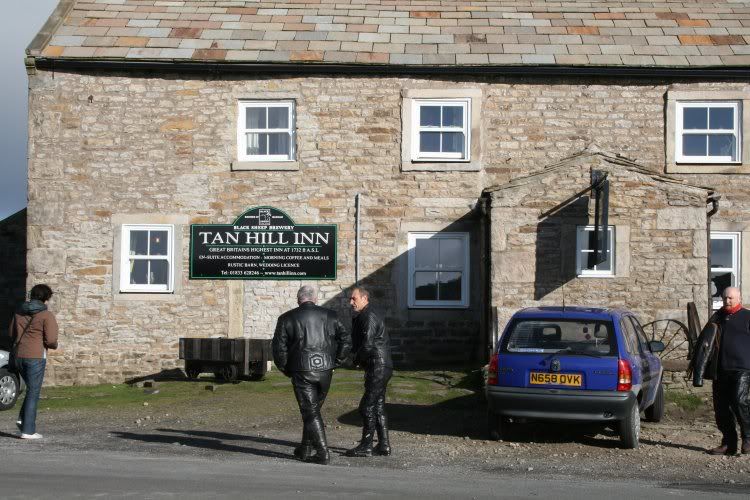 Bikers at Tan Hill



Bleak moorland looking towards the A66 and Bowes



Matt and Dale walking past old mine workings. It was just past here we met Bruce coming up the other way.



Lunch at CB's



Langthwaite Hall



Langthwaite and Booze from the climb up Calver



Reeth from Calver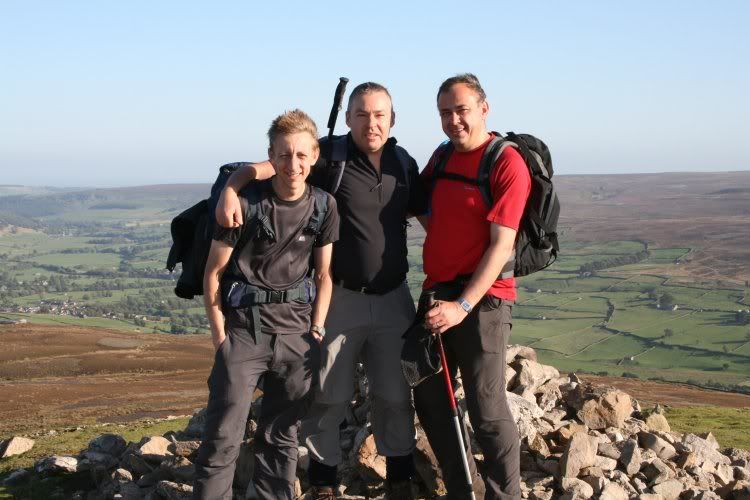 Matt, Bruce and Dale on the summit of Calver



Bruce, Me and Dale showing our better side!!



Bruce, Me and Dale (looks like we are expecting!!). The class of '85 Doncaster MIHE, Diploma in Personnel
Management. We've done OK.



Matt on the suspension bridge over the Swale at Reeth