Day 2 Hawes to Tan Hill - 17 Miles ( I think ) – View Day

Today was going to our hardest day with a climb out of Wensleydale into Swaledale then up and round Kisdon to Keld, followed by a last 4 miles with a climb out of Swaledale across the moor to Tan Hill, the highest pub in Britain. Tan Hill is perhaps better known to those longer in the tooth, for Ted Moult's Everest window advert and feather test. If you don't know what I'm talking about ask someone over 45. The ads have now been updated as triple glazing has been installed without Ted Moult (as he is no longer with us) but happily, the feather test remains.
We left the diary last night before we went out. So to catch up, we went to The Crown as recommended by Janie and Stuart from the B and B. It was OKish. I had mushroom risotto and I could do better myself for 10 quid and Dale had a curry. Nice place, good beer but average food. The lady behind the bar was a comic. When Dale asked if he could have veg with his dinner she went away to ask and said he couldn't " because the chef is being an arse". Harsh maybe, but probably true. We had a couple of beers and failed badly at the trivial pursuit game machine and decided to call it a day.
The breakfast was really nice (a 9) with excellent sausage. Only one teeny tiny mumble was that my egg was a tad over cooked, I like it a bit runnier (Dale's was fine. Darnitt) and I prefer black pudding to hash browns but it was cooked well and as I said the sausage and bacon were great. As Sherpa wouldn't pick up the bags from this B and B ( been a frank exchange of views apparently) we had to leave our bags at the tourist info place which didn't open until 10am which meant we didn't get going until 10.20 as Dale got the butties and painkillers for his knee while I dropped the bags off. The Tourist Information. place is near the old station in Hawes which brought out the inner train spotter in me. They have opened the Wensleydale Line as far as Redmire and are hoping to re-open the stretch between Redmire and Garsdale which would link the Settle – Carlisle line to the East Coast main line. It would be great if that happened, although the trackbed just after Hawes looked in a poor state. Finding the money will also be difficult in these austere times but it would be great if the whole of the Wensleydale Line could be re-opened. Mr Beeching has a lot to answer for. Anyway, Dale arrived with butties and slice of cake in hand and suitably drugged up with painkillers so we set off.
Again the weather was overcast but dry. The cloud was low and was skimming the tops of the highest fells (which we would of course have to cross). The first part to Hardraw was nice and easy. Approaching Hardraw, we came across a line of names in a dry stone wall which must have marked the graves of much loved dogs.
We decided not to see Hardraw Force as we were a little late and we'd seen it before. After Hardraw the long climb of Great Shunner Fell starts. It's not bad at first, the track is good and it climbs steadily leaving Wensleydale behind. The track gets worse and less distinct as the path reaches open moorland and. the scenery gets bleaker. The weather was still dry, a bit cloudy and quite cold as we gained height. Much of the path has been flagged over the boggy bits but I still managed to go up to my ankles in one bog.
One highlight was seeing 2 deer running across the hillside at quite some speed. After another climb and false summit we decided that Shunner must be norse for bleak, boggy hell hole. Probably a disservice as there is something wonderful about the bleak moorland contrasting with the lush valleys of Wensleydale and Swaledale. We had lunch near the summit and at the summit (at 2300 feet the highest point of walk and the 4th highest in the Dales), we got mobile signal so unfortunately Dale had to take some work calls. His mood wasn't lightened when he was told that it was lovely and sunny where they were and they were having to put the aircon on and shut the blinds to keep the sun out, while he was huddled in the shelter while surrounded by mist and cloud. As we came down the lovely views of Swaledale opened up. Still one of my favourite places. When we got to Thwaite we were ready for a break and we came across 3 guys who were doing the same walk but going to Keld and getting a lift to Tan Hill. They were leaving a tea room so we decided to have a break, a cup of tea and cake and Dale could dose up again on painkillers. There was a lovely site when a herd of sheep came through the village with a sheep dog keeping them in order. The break gave us a new lease of life and we climbed out of Thwaite onto the flanks of Kisdon and the views of Thwaite nestling in the valley with the line of barns typical of Swaledale, was stunning. As we walked round the hillside with the Swaledale views, it was a real pleasure and privilege to be out and a reminder why we do this.
The path got a little stoney as we approached Keld and you could see some remnants of the old lead mining works that once dominated this area. At Kisdon force we turned away from Keld and climbed up out of the valley. As we did we could see a sunbeam bursting through the clouds, onto the hillside in the distance. It was like a Devine light was shining on somebody. The guys we saw at Thwaite had said that rumour had it that the path to Tan Hill was hell as it was so boggy. Luckily, with this stretch of dry weather the path was good and we made good progress. You could see some of the old coal mining works and we saw a flock of black grouse flying low over the moor which was a lovely site as they are trying to protect them. After one last climb we saw Tan Hill, an oasis in the middle of nowhere. 3 sheep were trying to get in the pub which was quite funny. It was the end of a great day of contrasts, a real highlight. The room is compact and bijou but it will be fine. Matt should meet with us tonight and join us for the last 2 days and hopefully we'll see Bruce tomorrow. Now for pie and beer!!.
Photos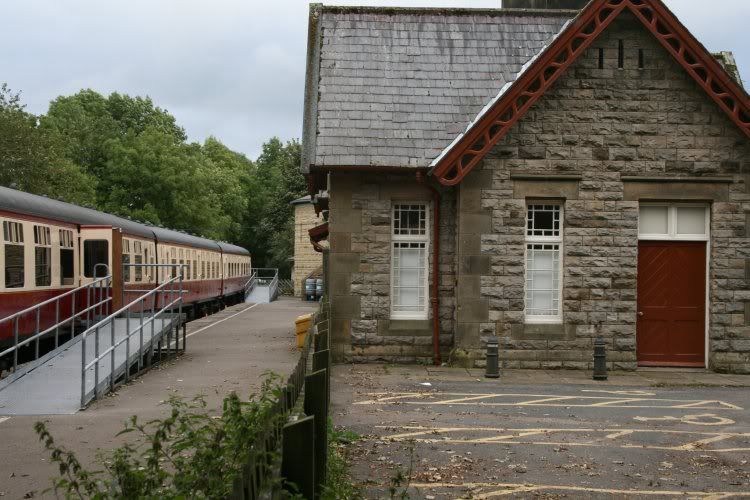 Hawes Station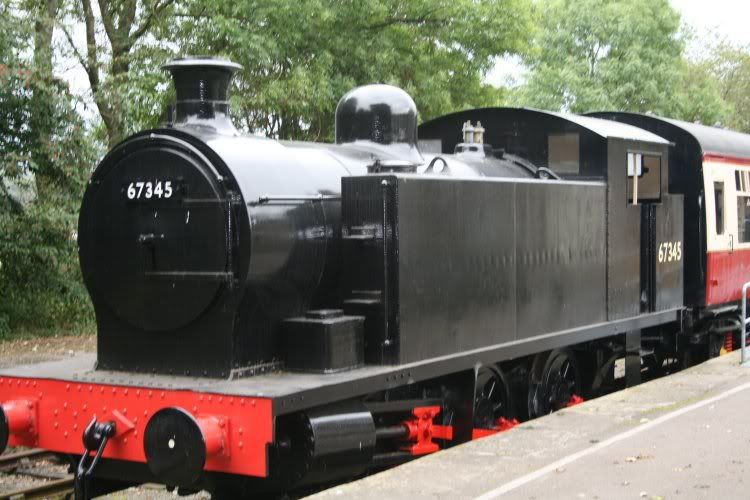 Steam train to nowhere (Oh Mr Beeching what have you done!)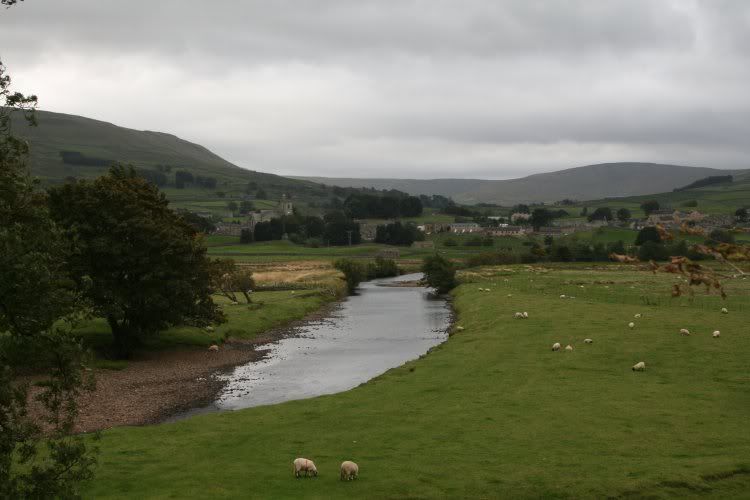 The Ure between Hawes and Hardraw



The Doggy graves near Hardraw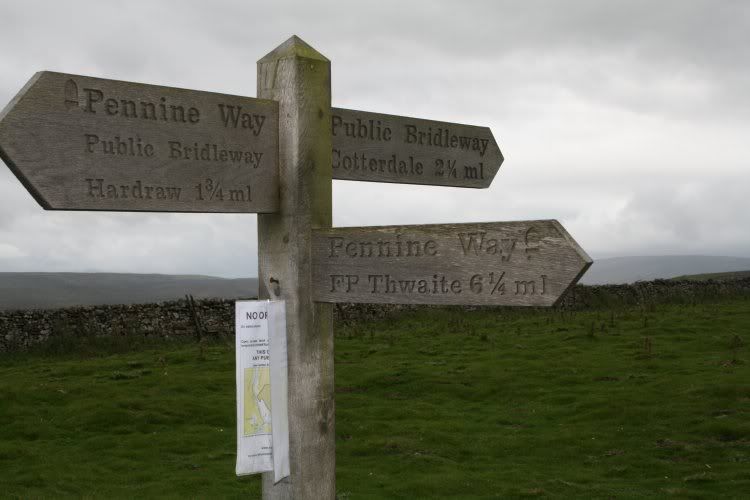 Sign on the way up Great Shunner Fell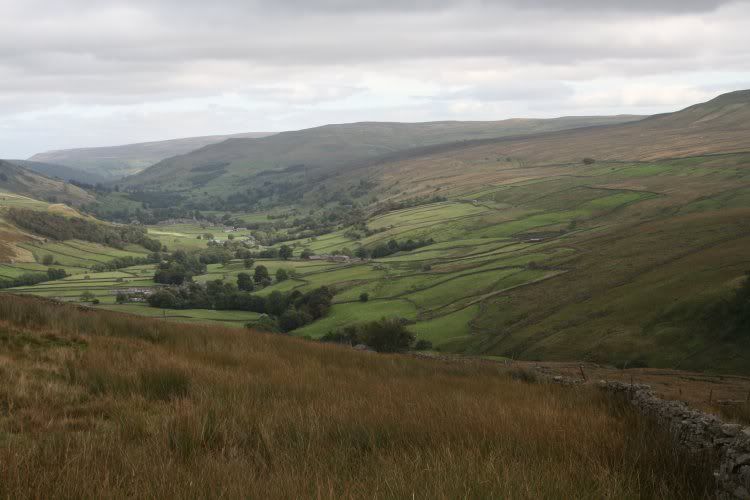 Beautiful Swaledale on the way down Great Shunner Fell



Me on the way into Thwaite



Kearton Tea Shop in Thwaite

Dale caught leaving the Tea Room full of cake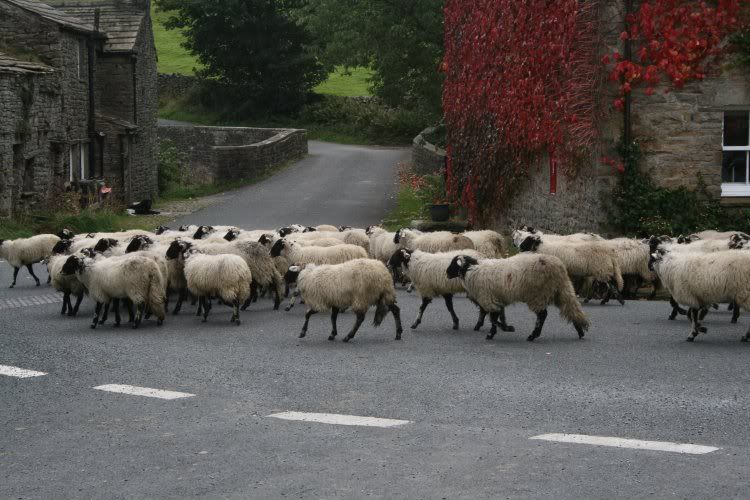 Sheep being driven through Thwaite



Sheep dog keeping them in order



Farmer keeping sheep dog and sheep in order



Thwaite from the side of Kisden. Notice typical Swaledale barns.



Just to prove we were still on the Pennine Way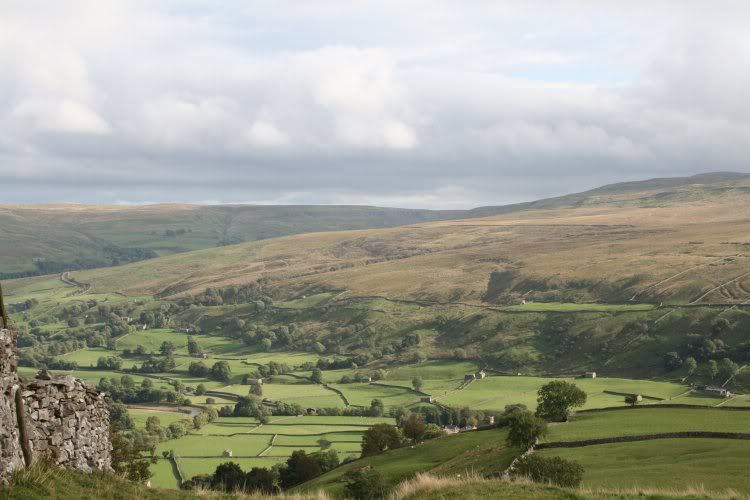 Views of Swaledale from Kisdon



Views of Swaledale from Kisdon



Views of Swaledale from Kisdon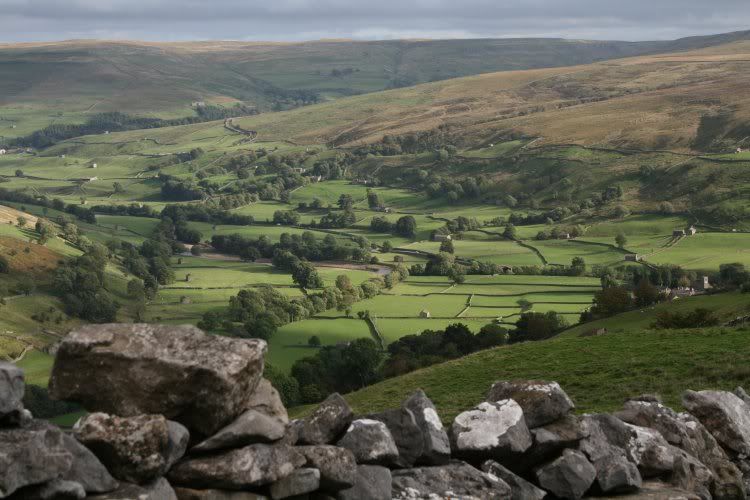 Views of Swaledale from Kisdon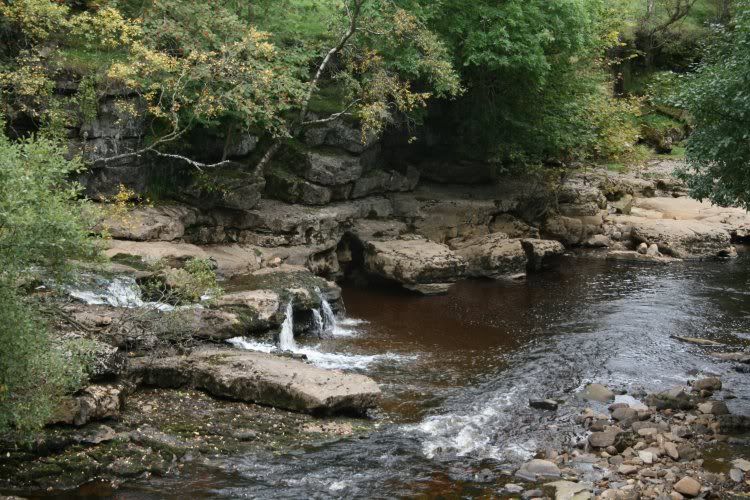 River near Keld



River near Keld



Dale crossing the river where the Coast to Coast and Pennine Way meet



Kisdon Force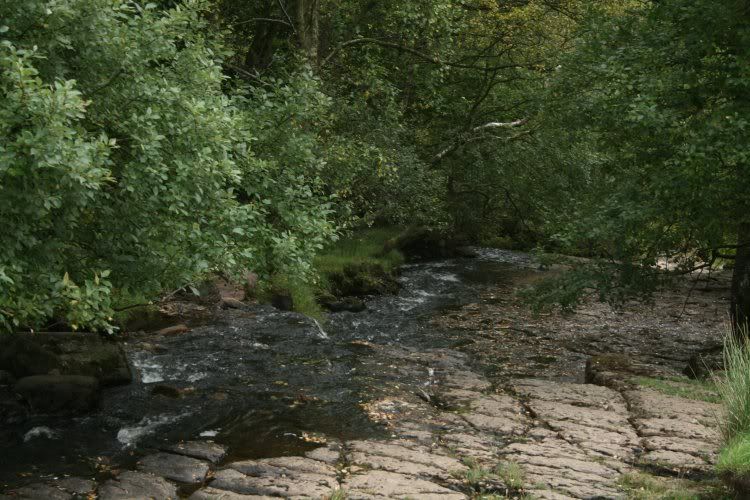 River flowing away from the waterfall



Keld from the climb out of the valley towards Tan Hill



A light shines on someone on the path from Keld to Tan Hill