Day 1 Aysgarth to Hawes 13 miles – Valley Day
After much agonising and false starts this year, we are doing the James Herriot Way which is a 52 mile circular walk starting and finishing at Aysgarth in Wensleydale. If you've read the books it is based on James Herriots honeymoon where he stayed in the pub in Carperby and spent a week in the area TB testing cattle. He obviously knew how to treat a woman!

The plan was to basically follow the 'official' route over 4 days but on Day 2 we will follow the Pennine Way to Tan Hill instead of stopping at Keld and on day 3, we will plot a route from Tan Hill to Reeth via Langthwaite rather than going back to Keld and then following a route we'd done before on the coast to coast.

The plan was for Dale to come and stop at our house last night and we'd get a good start this morning, however Dale had to stay home and he came up this morning. So we were a bit later off than planned but we were in Aysgarth after 11.00am. We bade a fond farewell to my wife Janine who had kindly given us a lift (she was looking forward to the cheese factory in Hawes and the chocolate factory in Leyburn) and set off.

The first leg was a walk following the river to Askrigg. The weather was cloudy but dry but the sun we had at home when we set off had not come with us unfortunately. It was a pleasant walk following the river if lacking features. We came into Askrigg ready for our lunch and had to ignore a lovely bakery (the sausage rolls and cakes looked very appetising) and the Kings Arms and you'll be surprised to know we managed to walk past and sat in the square with our pack up. Ho hum. For those too young to remember the James Herriot TV programme, Askrigg was used as Darrowby and a bar in the Kings Arms doubled as The Drovers Arms and the building opposite the church was Skeldale House.

After photos and lunch we set off again on the path to Mill Gill force. The last time I stayed in Askrigg, was with Janine who was pregnant with Kieran, so over 13 years ago, and we had a couple of days away on our own which was quite a luxury then. Rhiannon was being looked after by a grandparent. We stayed in the Kings Arms, in a 4 poster and had dinner at what is now the lovely bakery, which was a restaurant at that time. Anyway, that was the last time I'd been to Mill Gill Force and I'd forgotten how impressive it was. After photos, we moved on and followed a line that ran along the side of the valley. The RAF were very active with fighters, trainers and Hercules flying very low but I couldn't get the camera out of the case in
time to take any pics. In trying to get the camera out, I must have caught the lens cap as it wasn't where it should have been i.e. on the lens, nor was it in my pocket or in the camera case. I had special permission from Janine to borrow her beloved SLR for this trip, under the proviso I look after it or else I would be talking in a very squeaky voice for a long time. Much of the walk from then on featured possible strategies to tell Janine about the lens cap without having my manhood mangled. These strategies ranged from:
1. Denying all knowledge and feigning surprise when the lens cap was found to be missing (attractive option but a tad dishonest).
2. Bring back lots of presents including chocolate and 'fess up. (Attractive option if a tad expensive)
3. Blame Dale (Attractive option but a tad unreasonable)
4. Blame person or persons unknown (Attractive option but not likely to be believed given my propensity to lose/forget things)
5. Blame Matt or Bruce (same reasons as 3)
6. 'fess up to something worse to make losing of lens cap less important (just dangerous)
7. 'fess up with truth (dangerous but probably best)
This discussion went on for some time and for the next 4 days the various options were debated fully. In the meantime the walk continued high on the valley side and afforded great views of Wensleydale and Penhill. Just before Sedbusk, we missed a turnoff and carried on following a good track. We hadn't gone far before we realised our mistake so doubled back and found where we went wrong. When we got to Sedbusk, the official path carries along the valley side to Hardraw to see the waterfall, (The highest single drop in England – above ground that is, as Gaping Gill probably beats it) before turning back towards Hawes. But as we had decided to follow the Pennine Way tomorrow, which will take us past Hardraw, we decided to head towards Hawes from Sedbusk. We came into Hawes past the old railway station and found our B andB, Ebor House. We had lovely welcome from Janie and Stuart the owners and we seemed to arrive at the same time as everyone else which was funny. Janine had thankfully dropped our bags off and much to Dale's relief ear plugs.!!!!!
We've been recommended the Crown to eat tonight, so the Crown it will be. I
may update when I get back but might not depending on how tired or how many pints and the size of pie I may have.
Photos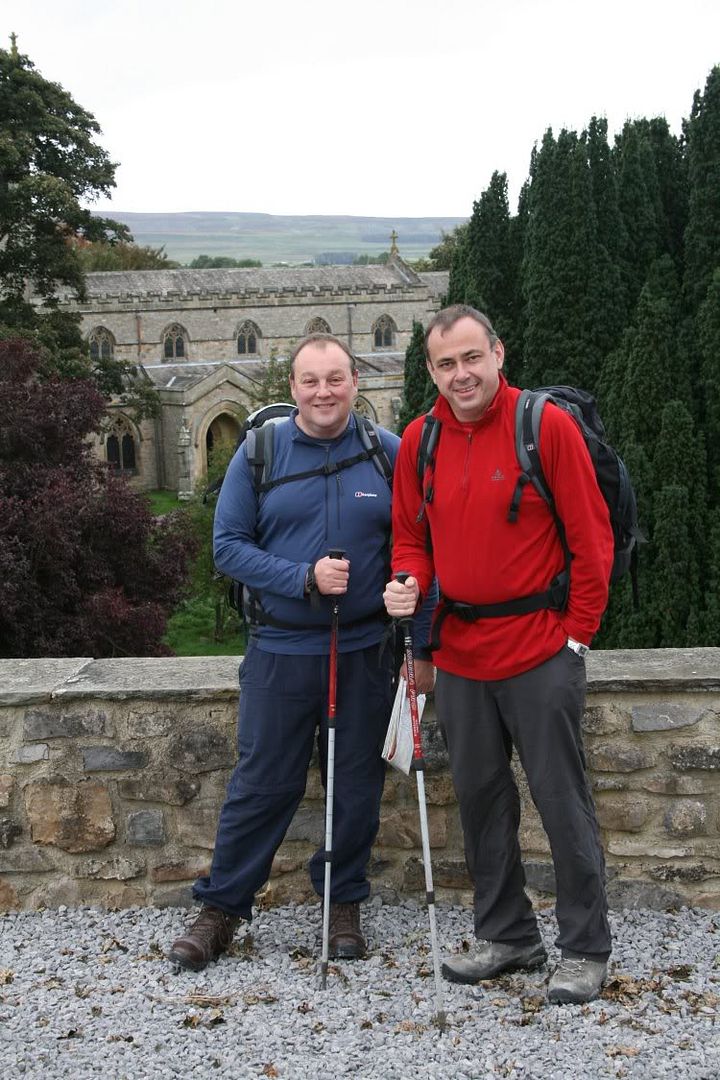 Dale and me ready for the off in Aysgarth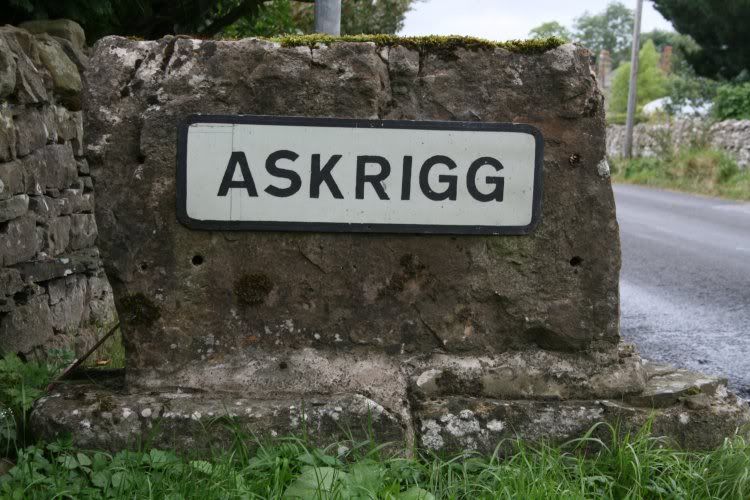 Entering Askrigg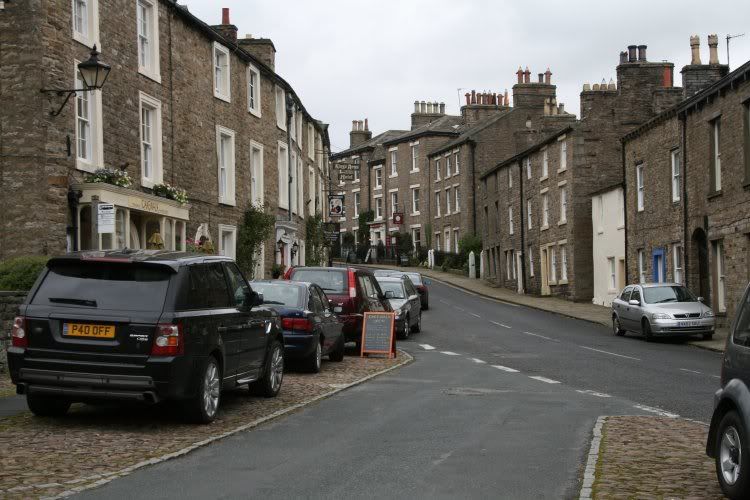 High Street, Askrigg aka Darrowby in the TV series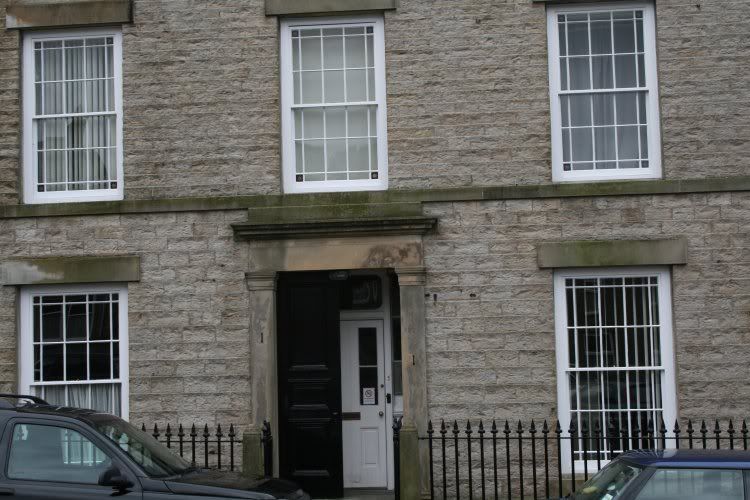 "Skeldale House"



Askrigg Church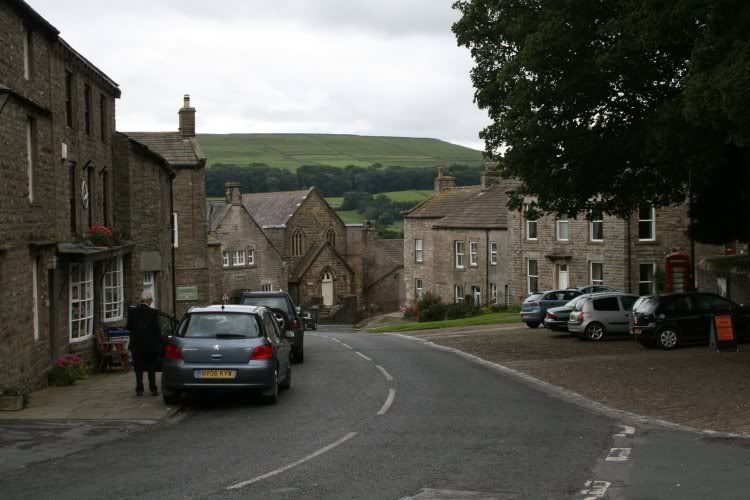 Askrigg High Street looking down towards Bainbridge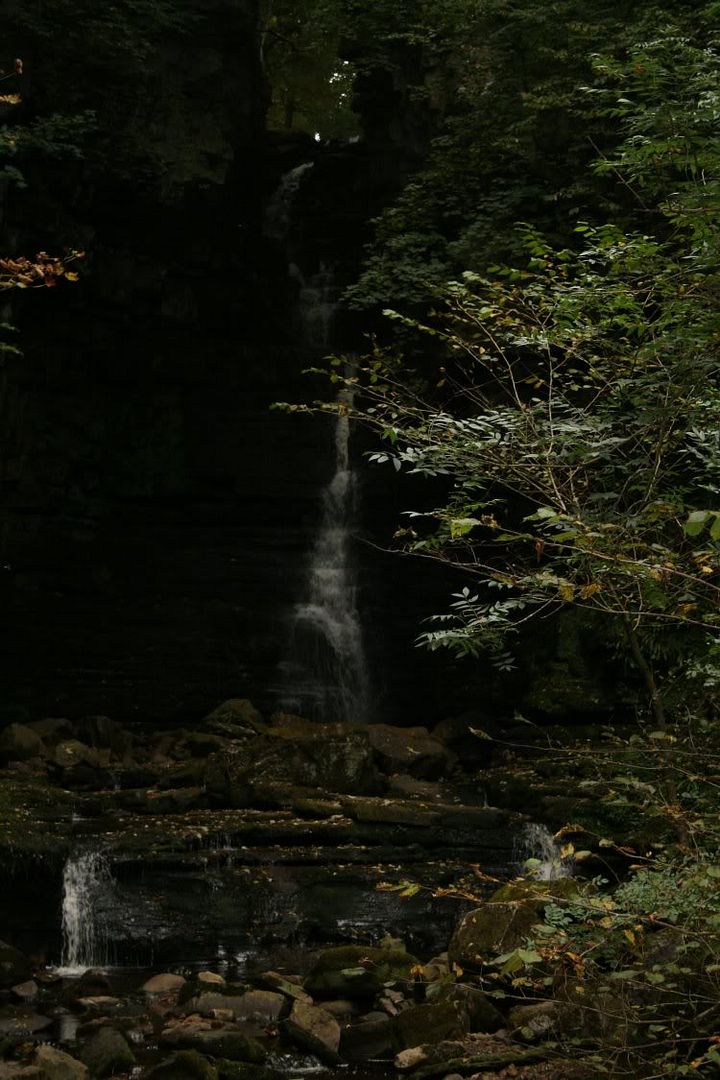 Mill Gill Force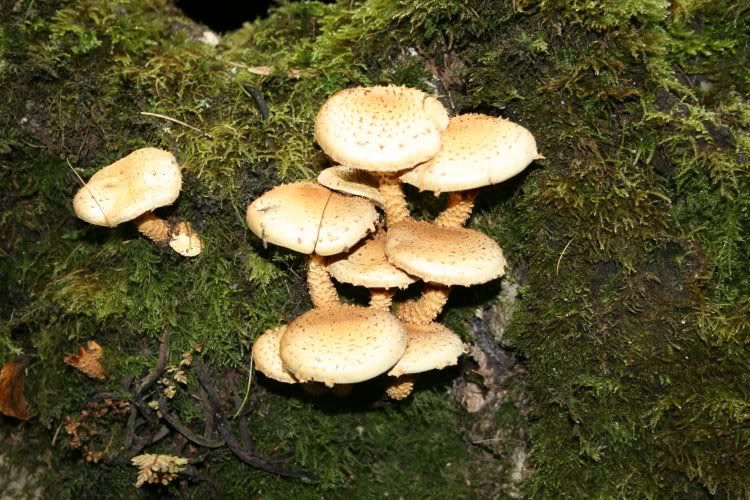 Mushrooms growing in the wood near Mill Gill force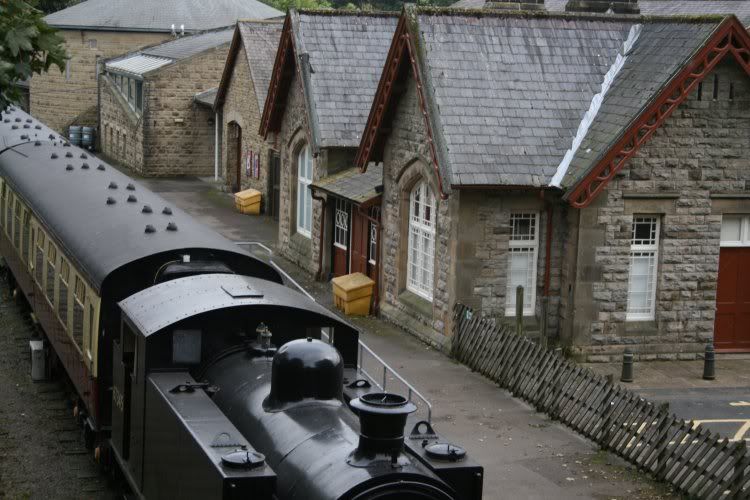 Hawes Station (closed down)